So.. last time when I first subscribe the Maxis broadband and used in Taman Puncak Kinrara that time I can "lansi" people cause I get very fast connection speed.
But now, after I moved to Taman Wawasan, thing have changed...
The connection went bad.. loosing connection become frequent case..
Even orang jahat also lansi me back liao >.< ||| How can it be!! So, the so called abit brilliant little cute Marccus come out a little lame idea. To improve the connection signal!! The mission began.. x-x-x-x-x-x-x-x-x-x-x-x-x-x-x Actually recently, I've watch a nice movie called "
Eagle Eye
"
site 1
,
site 2
.
Hoiyo, Brilliant I tell you how intelligent the computerized world it can be, when the city is fully coated by circuit board, human breath the wavelength as air, and how the Super Duper Artificial Intelligent World Defence Hot Chick Voice Commander Controlling Center (S.D.A.I.W.D.H.C.V.C. Center a.k.a. the Eagle Eye in the movie) help the USA army to judge decision that lead to victory and peace in military. (Want to know more then just go watch it!
=)
really a not bad one)
and there is one scene I tell you that holly impress me is the Eye-killing diamond explosion scenario. Where they are so high tech until create a certain frequency to cause the small diamond to ignite the Super Duper Killing Blasting Explosion (S.D.K.B. Explosion). WoW!
So.. the idea come.. and implement..
I successfully found a small crystal bead that I found at Crystal Hill (a.k.a Bukit Melawati or Bukit Tabur) long time ago. Then I put on top of modem.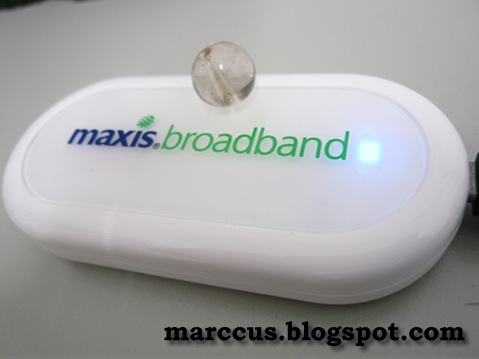 And start the hopes.
I was hopes that may be there is a special frequency adjustment ability in the crystal bead that can alter and probably create a gathering signal to gather all the lost signal around my area.
At first
I was so happy because it was actually
improve for the connection
!
But
its actually a
Failed
case!!!
X.X |||||||||||||||||||||||
And then failure doesn't step me down!!!
I find find find korek korek korek...
Finally, I saw two USB cable that have been dumped by me long time ago by don't know what reason. With a Scissors.. and a minor operation..
Here come the Magic!!
Now, my new Huawei Modem look like this.
He sometimes very warm-hearted, and friendly.
Sometimes, she will shy..
So actually I also don't know he/she is a he or she.
How I work it out is actually follow the very basic concept, known as Extending Cable Method (E.C. method). You just cut and join the two USB cable, that's it. But becareful at this part, cause the inside of the cable, there have four tiny small wire which are very fragile, please treat them carefully if you're gonna follow my step. And the four wire actually have unique four different colour, which is
Black
,
White
,
Green
, and
Red
. Those people who can't differentiate these four colour, PLEASE STOP HERE!! or Consult your friend for help. Mis-connected wire may bring unnecessary sad things happen.
After you wrapped the connected cable, look like this (sorry for my skill, i know it look awfully ugly, wakaka)
After you perform the E.C. method, you can flexibly station your modem at further location and in a better signal capturing space area.
For me, I station him/her in a astro plate look-alike place, and use a strong PVC look-alike adhesive tape to stabilize the position. Now I named it "
the Receiver
"
The big end of the extended USB cable was actually have two head. So I can empower the E220 modem when one connection does not bring enough power.
So now I'm able to move and place the Receiver near the window (But actually the window in my room is still inside the house.. T.T).
which believe to be have a lots of lost signal out there.
By imaginary, the Receiver should actually work charmingly by attracting those lost signals. You can freely adjust the head to obtain better signal.
When it working , look like this (but you actually can't see signal, ok?)
The result is quite
satisfied
for me.
=)
The modem now can bring up to
40 - 70KB/s DL rate
(yea, but not that all time), which is improve a lots when compared to the previous. And also, there are
significant drop
in the losing connection syndrome (L.C.S.).
So who ever dare to try it,
Just Do it!!!
keke..
If anyone interested and have some problem, do feel free to email me and we can discuss. I also will try more alternative when have chance. wakakaka
here is the picture of the pity head that being cut off.. Deep condolences to you both. Amitabha..
And this is how the overall looks like when done (sorry, my table is messy).
Notes:
Cost:
MYR 0.00
Time of Completion:
<
30minutes for intermediate,
<
1 hours for newbie (May be varies).
Outlook:
1.5/5
Performance:
3.5/5
Last but not least, I would like to thanks a bunch of
Thanks
to
Tian Chad
,
who borrow his Ultimate Portable Carry Around Panasonic Lumix Camera (U.P.C.A. Panasonic Lumix Camera) for me to snap the photo. Because I don't have a visual capture device (V.C.D)

T.T
Updated post and method please visit here >>
[
Link
]